Residential Senior Care in Portland, OR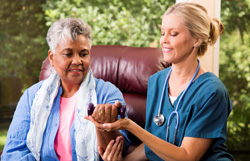 Firwood Garden Residential senior care offers the best of both worlds for seniors who need ongoing help with personal care and typical daily activities yet who wish to retain their independence to the fullest extent that they can.
As people age it is inevitable that some seniors, who may have once headed companies or traveled the globe, might start to need assistance with day to day activities. But they are understandably reluctant to forfeit their independence. Someone accustomed to managing a business (or a family) can have a difficult time acknowledging that they forget to take their medications or need help getting bathed and dressed. Because they do not need daily medical care at this point, Residential care is a great option as it provides apartment style living, with the support of 24hr care staff.
Assisted Living Portland Oregon at Firwood Gardens
Firwood Gardens  Assisted Living Portland Oregon offers a full spectrum of personal care and support services tailored to meet the individual needs of each resident, including:
Care Services supported by state of the art electronic health records
Assistance to and from dining
Medication management
Toileting
Assistance with ADL's, bathing, dressing and personal hygiene
Transportation
Activities and more!
      Contact us today to take a tour of our senior living community.