Residential Senior Care in Portland, OR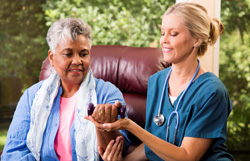 Firwood Garden Residential senior care offers the best of both worlds for seniors who need ongoing help with personal care and typical daily activities yet who wish to retain their independence to the fullest extent that they can.
As people age it is inevitable that some seniors, who may have once headed companies or traveled the globe, might start to need assistance with day to day activities. But they are understandably reluctant to forfeit their independence. Someone accustomed to managing a business (or a family) can have a difficult time acknowledging that they forget to take their medications or need help getting bathed and dressed. Because they do not need daily medical care at this point, Residential care is a great option as it provides apartment style living, with the support of 24hr care staff.
Assisted Living Portland Oregon at Firwood Gardens
Firwood Gardens  Assisted Living Portland Oregon offers a full spectrum of personal care and support services tailored to meet the individual needs of each resident, including:
Care Services supported by state of the art electronic health records
Assistance to and from dining
Medication management
Toileting
Assistance with ADL's, bathing, dressing and personal hygiene
Transportation
Activities and more!
      Contact us today to take a tour of our senior living community.
Firwood Gardens Residential Care in Portland, OR
Seniors can keep their independence while receiving expert personal care from Firwood Gardens. We are a leading choice for residential care services in the Portland area.
Enjoy tailored residential care. At our residential care facility we offer personalized solutions for each senior resident. Our staff can assist in any area, from bathing and hygiene to nutrition and medical appointments.
Whether you're interested in elderly residential home care or assisted living, Firwood Gardens may be the perfect fit. Our residential care community includes multiple living options, ranging from a 192-square-foot studio apartment to 408-square-foot suites. Each option has a private bathroom and access to a wide range of amenities, including professional residential care for elderly residents.
Contact us today to learn more about residential care for seniors.
Explore Firwood Gardens – Senior Memory Care Community in Portland, OR
At Firwood Gardens, we offer a full range of senior memory care services and assisted living options at our senior living facility. We serve residents throughout Portland.
Discover a few of the reasons why we are a top choice for those who need a senior memory care community in Portland, OR:
Full spectrum of services
Experienced, well-trained staff
Over 80 private apartments
High-quality furnishings
Weekly housekeeping
Access to three nutritious meals per day
24-hour staff and emergency call system
We provide comfortable apartments and access to assistance from an experienced personal care staff. Some members of our team have over two decades of experience in senior care and the medical field.
Residents also receive access to a wide range of activities throughout the year. Other highlights include our various amenities, including recreational rooms and assistance with transportation needs and doctor appointments.
Firwood Gardens – News & Updates
Keep up with the latest developments and news at our assisted living facility in Portland, OR. Check back regularly for new content.
If you want to learn more about our assisted living community, contact our team. You can also browse our site to explore facility pictures, floor plans, and employment opportunities.
Firwood Gardens is ready to welcome you to our community. Learn more about our senior apartments, well-landscaped grounds, and variety of amenities and services. Contact us to arrange a tour.